The Book
The Book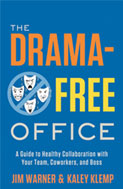 The Drama-Free Office: A Guide to Healthy Collaboration with Your Team, Coworkers, and Boss describes four energy-draining personalities that sabotage workplace collaboration and synergy. The authors blend humorous and relatable case studies with proven tools for managing 'office saboteurs'—subordinates, co-workers, and bosses. Readers will see their coworkers (and themselves) in this entertaining and action-oriented blueprint for addressing the dramatic behaviors that cripple so many teams.
The authors' research draws on years of experience working with more than 2,500 CEOs and their executive teams. They define the four major drama roles—the Complainer, the Cynic, the Controller, and the Caretaker—found in most organizations and lay out a detailed roadmap to help you:
Skillfully initiate difficult conversations and defuse dramatic moments
Reclaim the time, energy, and resources wasted in drama-riddled meetings and interactions
Reduce your own dramatic tendencies and take control of your work life
Create and sustain a collaborative, authentic, and fun work environment
Read samples from The Drama-Free Office
Why Read "The Drama-Free Office"
Over the last decade, we've worked with thousands of leaders, professionals, and senior associates in corporate environments, at executive team retreats, and in intimate small-group settings. We have served a vast spectrum of enterprises, from multinational public companies to boutique entrepreneurships to multigenerational family businesses to professional partnerships.
At a basic level, we have found that dysfunctional dynamics derive from drama in the office. This drama is the cause of the infighting, water cooler talk, meaningless meetings, and turf wars that drain energy or deflect the work team from the collaborative pursuit of goals. We've discovered that regardless of the type of organization, leaders often avoid dealing with drama in the workplace, or deal with it badly.
Why do they settle for drama? There are two reasons: (1) they lack the skills to address difficult interpersonal topics, and (2) they're fearful that confrontation will make matters worse. The Drama Free Office will give you the awareness, skills, and courage to address drama proactively, and achieve greater collaboration and productivity in your organization.