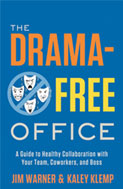 The Drama-Free Office
The Drama-Free Office
The Drama-Free Office: A Guide to Healthy Collaboration with Your Team, Coworkers, and Boss describes four energy-draining personalities that sabotage workplace collaboration and synergy. The authors blend humorous and relatable case studies with proven tools for managing 'office saboteurs'–including subordinates, co-workers, and bosses.
Jim Warner on "Falling Into Drama … and How to Get Out"
About

Jim Warner

As an adviser to top executives, Jim is an expert on how to expand their suite of leadership skills, while breeding enduring authenticity and collaboration within their teams. He is the author two additional books based on direct experiences with thousands of CEOs and company leaders.
About

Kaley Klemp

Kaley Klemp is a sought-after facilitator, speaker and coach. She is an expert in small-group dynamics and leadership development, specializing in building trusting, synergistic teams. She works with YPO forums and executive teams to address the issues that block peak performance.