About |
Jim Warner and Kaley Warner Klemp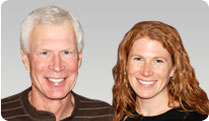 Jim Warner and Kaley Warner Klemp are devoted to guiding organizations, family businesses, government leaders, and professional partnerships on how to expand their leadership skills, while fostering enduring authenticity and collaboration within their teams. Whether for entire corporations, executive teams, small groups, couples, or individuals, Jim and Kaley are experts in creating collaborative, productive interactions. Research for The Drama-Free Office is based on their work with over 3,500 CEOs and their executive teams, worldwide.
About Jim Warner

Jim Warner's entrepreneurial career began at age 29, when he founded a software company (Precision Visuals, Inc.). He evolved quickly from developer, to entrepreneur, to leader experiencing the full range of business transitions: high growth, team building, recessions, downsizing, restructuring, repositioning, succession planning and implementation. Since 1995 Jim has worked with over 2,500 CEOs in multinational public companies, entrepreneurships, partnerships, and family businesses. As an adviser to top executives, he is an expert on how to expand their suite of leadership skills, while breeding enduring authenticity and collaboration within their teams. He is also the author of Aspirations of Greatness and Facing Pain—Embracing Love. Both were based on direct experiences with thousands of CEOs and company leaders. Jim is an alumnus of the University of Michigan and Harvard Business School (OPM program). He is a member of World Presidents' Organization.
About Kaley Klemp

Kaley Klemp is a sought-after facilitator, speaker and coach. She is an expert in small-group dynamics and leadership development, specializing in building trusting, synergistic teams that are able to achieve their strategic objectives—even in the face of challenging circumstances. Since 2004, she has worked with more than 175 YPO forums and over 50 executive teams to uncover and address the issues that block peak performance. Klemp is the author of 13 Guidelines for Effective Teams, and is a graduate of Stanford University, where she earned a B.A. in International Relations and an M.A. in Sociology, with a focus on Organizational Behavior.
Kaley Warner Klemp
An expert in small-group dynamics and
leadership development